Klaipeda Business Park Charity Cup 2012
2012.09.08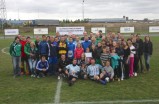 16 teams and a wide range of sponsors expressed their wish to participate at the eighth KVP Charity Cup. This year's fundraising event was dedicated to support the children of Lapiai basic school living full-time in a hostel attached to the school. The majority of these children either temporarily or permanently do not have parental care.
During the event 30 225 Lt was raised. For these funds a lot of useful and necessary things have been bought: various educational and sports equipment including new basketball boards for the outdoor basketball court. Also, some of these funds were spent for making a new outdoor valleyball court.  However, the main purchase for these children was the new beds in the hostel. From now on the sleep of these children is healthy and sweet.
We would like tocongratulate Admen team on winning KVP Football Charity Cup 2012, Onninen team taking the second place, and BNTP taking the third one.  Also, we would like to express our sincere gratitude to all the teams, sponsors, and supporters for making their personal contribution into this year's event!