Klaipeda Business Park Charity Cup 2011
2011.08.27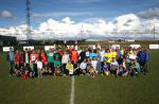 As it is a tradition each year the last summer weekend Klaipeda Business Park held the seventh KVP Charity Cup in a row. 12 teams and a wide range of sponsors have responded to the invitation to raise money for the needy.
The support beneficiary of KVP Charity Cup 2011 was chosen a non-profit public organization Day center "Kelias kartu" ("A Pathway Along"), which provides day care for disabled children. For the raised 30 000 Lt necessary equipment needed to perform various therapies such as sand therapy, music therapy, light therapy, art therapy, etc. will be purchased to the center. We hope that this will enrich the spare time of disabled children and bring them joyful moments to remember.
Our sincere congratulations to Mestilla team on winning the trophy of KVP Charity Cup! Also, congratulations to Radisson BLU team, which took the second place, and ARGUS taking the third one. BNTP appreciates the willingness and support of all the sponsors and teams of KVP Charity Cup 2011!