Installation of the playground for disabled children
2020.02.04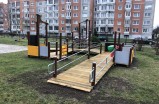 Playground for children with disabilities has been installed in Klaipėda kindergarten-Versmė. Installation of this playground has been financed by the sponsors of the 2017 Klaipėda Business Park football tournament.
For a long time BNTP team had an idea to install playground in Klaipėda city for disabled children. In year 2017 during Klaipėda Business Park (KVP) football charity cup, the charity amount was raised for purchase and installation of the playground. After a very long discussion and effort to find the best place for the playground in Klaipėda city, finally we are happy to announce that the playground for disabled children is installed in Klaipeda kindergarten "Versmė".
The director, teachers and children are very happy with new playground because now disabled children will feel the joy of spending time in playground.
Thank You very much to all KVP football charity cup 2017 supporters.