Exclusive Business Day in Klaipeda
2011.05.27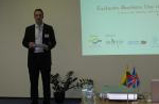 On May 27th 2011, the British Chamber of Commerce (BCC) together with BNTP and Klaipeda FEZ Management Company organized the Exclusive Business Day in Klaipeda. Nearly 50 members and diplomats expressed their interest to participate in the Day. The aim of this event was to provide BCC members with a broader overview about Klaipeda and its advantages for business by visiting major strategic companies in Klaipeda.
Klaipeda Business Park (KVP) was the first stop in the programme. J.Clarke, General Manager of BNTP, made a presentation about investment and business cooperation possibilities in Klaipeda Business Park. "Why to choose KVP? – It has excellent location, quality premises, superior services, and provides added value for the tenant" – J. Clarke highlighted. Also, E.Kiudulas, General Manager of Klaipeda FEZ Management Company, introduced Klaipeda FEZ zone as an attractive place for establishing business in Lithuania. Later on businessmen and diplomats had an opportunity to visit Glassbel Baltic – a company processing architectural/façade glass in Klaipeda FEZ zone.
The peak of the event was held at the Old Port Hotel where members of Klaipeda International Business Club, CEO's and representatives from Klaipeda business community have joint the event. The key-note speaker was a new Mayor of Klaipeda Vytautas Grubliauskas who made a speech about Klaipeda city and introduced with the most attractive sides for foreign investors. In addition, all attendees were overwhelmed by Mayor's short performance with his trumpet.
BNTP is grateful to British Chamber of Commerce for having a possibility to meet with BCC members and diplomats to discuss business opportunities in Klaipeda.