Charity Cup 2019
2019.09.04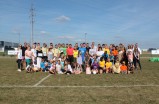 Congratulations to Klaipeda Business Park Football Charity Tournament 2019 winners – EDM Statyba team and runners up – BNTP team.
We are very grateful to the tournament participants and sponsors who contributed to this year's charity event.
This year's charity beneficiary – Klaipėda impaired development orphaned baby home in Giruliai (Klaipėdos sutrikusio vystymosi kūdikių namai). This institution has developed well over the years and at the moment they provide services including; orphaned baby home, early rehabilitation centre, respite centre where parents, who have disabled children can bring them and have some time for themselves to rest, day centre and etc. The money was used to buy and install swings for the disabled children.
We would like to sincerely thank everyone who helped organise and who participated in the KVP Football Charity Cup 2019.