Building permission for Tomo street guest house approved
2022.05.26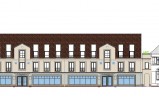 Building permission for Tomo Street guest housein Klaipėda old town was approved in May 2022. 
*** Lead break (invisible for users) ***
The project is at Tomo Str 26, 28 Klaipėda and it consists of 1000m2 multi-use premises. Premises available to rent are from 50 -1000m2. BNTP provides complete project development services.